Everything You Need To Know About Bridal Hair Prep—Straight from the Experts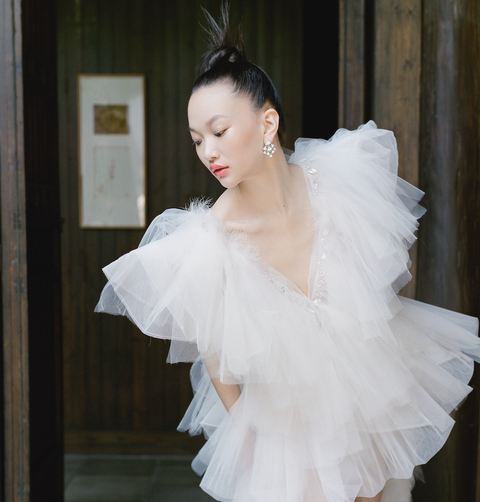 As a bride planning her upcoming fall wedding, I get it—you want to look like the absolute best version of yourself. And, after you find "the dress," thinking about how you'll style the look is up next. Accessories come first (you'll need the shoes for your first fitting, jewelry at your second, and the full look for the third), but beauty should follow suit, and be dictated by your personal style, your neckline, and what will make for jaw-dropping photo moments. Selecting your wedding hair look can feel daunting, and is often a customized, individual process. Some brides opt for waist-length extensions, while others opt to shave it all off (like yours truly) The truth: There's no wrong way to look on one of the most exciting and romantic days of your life.
From picking the right hairstyle to figuring out when to touch-up your roots, we tapped four mega- celebrity hair stylists for the best bridal prep advice you'll ever receive.
YOUR HAIR HEALTH
If you're still a few months out and think your hair could use a little oomph, try popping a daily vitamin with biotin. According to Celebrity hair colorist, Nikki Lee, hair vitamins are 100% worth the hype. "You gotta get healthy on the inside so you can thrive on the outside," she explains. As for what to take, "my go-to is Nutrafol." However Lee cites this is not a quick fix—the more lead time you have to load up on vitamins, the better. "You have to give it at least 3 months of consistently taking them to notice any difference," Lee encourages. "And try your best not to stress; stress can cause hair loss. Try not to heat style too much either and focus on hair treatments. Even if you feel like masks and creams can weigh your hair down, trust us (and the experts): Your hair needs vitamins to continue to grow. Lee's pick? In Common's Crystal Cashmere Treatment.
If you are hoping to grow your hair out, Celebrity stylist and beauty expert Justine Marjan posted an IGTV tutorial that covers it all. Per Marjan, some techniques that inspire hair grownth include "taking vitamins and minerals that support hair health like Olly Undeniable Beauty or Heavenly Hair Gummy Vitamins, using a microfiber towel to dry your hair instead of a regular cotton towel, only sleeping on silk pillowcases, being careful when you brush your hair (especially when it's wet. I suggest the WetBrush original detangler to prevent breakage while you brush), only using non-damaging hot tools (like ghd) or avoid heat styling, avoid stress, eat a healthy diet, exercise regularly, get enough sleep, massage your scalp to stimulate growth, use hair masks regularly, and use scalp nourishing oils like castor oil."
Celebrity stylist and co-founder of R+Co, Garren, encourages brides to "detox" their hair as well. "Doing a detox 2-3 times before your wedding day will help your scalp to breathe. Your hair will shine, and you can see how your hair manipulates after the detox," he explains. "For example, you might want to do a detox two days before your wedding and then follow up with your regular shampoo the day of your wedding so that your hair will react to the curling iron, blow dryer, or updo the way you pictured it when you did your test run." Naturally, Garren is a fan of R+Co's new SUPER GARDEN CBD Shampoo & Conditioner. "The combo is also great for detoxing the hair. It instills a sense of calm and has a blend of hydrating oils to gently cleanse without irritating the scalp," he explains.
YOUR HAIR CUT
Marjan (who had a very chic elopement herself, pictured above) recommends getting a cut at least one month before the wedding. "This gives your haircut a chance to settle and enough room to grow a tiny bit if you aren't 100% happy with the cut," she says.
While we support being as experimental as you please, most experts do agree on holding off on drastic changes until after your wedding day. "Right before your wedding is definitely not the time to go for an extreme change," warns Marjan. "If you are set on having a big makeover, do it a year beforehand so you can decide whether or not you truly love the change you made. You can't go wrong with a classic look on your wedding day."
If you are looking to go for the chop, do it because you know your soon-to-be spouse (and you) are sure to love it. Believe it or not, some brides (and grooms) love a bridal look without long locks. "This is rare, but I've had a couple brides that have said their future husband really love them with a short haircut. [These brides] deliberately grew their hair out so they could surprise their [partner] with short hair walking down the aisle." The catch? "[The bride] always knew what she looked like with that cut—and had it already once before. She's already thought it all out and purchased a dress to match the cut." In short: Go short; but only if you know without a doubt that it's a look you love on yourself. Your wedding day is not the time to experiment.
But, we get it—things happen. If you absolutely hate your haircut, the world is not over; we promise. For those looking to correct a short chop, "I would absolutely recommend extensions," adds Marjan. "This is the best quick solution for a bad haircut and exactly why I don't recommend any hair changes leading up to a wedding. Your stylist should be able to work with clip-ins if you want a temporary solution for the ceremony."
LANDING ON YOUR HAIR COLOR
Switching up or fine-tuning the color of your hair sounds tempting, but it can be a nightmare when you're just days away from walking down the aisle. Nikki Lee, encourages her brides to finalize their hair color goals at least 6-weeks prior to their nuptials. "This allows time for things to settle in and makes sure [you're certain that] this is the hair color you truly want for your wedding day. It will also give you time to try on your dress with that hair color to make sure it's right." This is sage advice, considering that hair color can ultimately sway the styling and decision making surrounding your final bridal look, and whether you choose to don a dress in color for the reception, after party, or even the aisle.
But if you are staying consistent and keeping your current shade, plan on booking a hair color touch-up a week out from your big day. "You will have a lot on your plate, so your hair color should be the least of your worries," explains Lee. "Try not to wash your hair too many times in the days leading up to the wedding to keep your tone the same. You can bring products like a purple shampoo and a hair mask with you to keep your hair looking fresh. And if you have unruly greys that pop through quickly, I recommend getting Garnier's Express Retouch for a quick, easy fix."
CHOOSING YOUR HAIRSTYLE
According to Nexxus Style and trends curator, Lacy Redway, your dress should lead the way to your hairstyle selection. "You want to think about the silhouette of the dress to make sure your hairstyle compliments it," explains Redway. "You should also consider the lasting memory of the photo. Think about hairstyles you may look back on in 10 years and think – 'what was I thinking?'" Redway also noted that your look's fabrication is key to landing on a hairstyle choice.Ruffles and frills towards the neckline will likely catch on long hair, and beadwork poses its own set of considerations—"you wouldn't want your hair to get tangled into the beading," she notes.
For Garren, it really depends on the neckline of the dress. If your gown is a high-neck, consider sweeping your hair up. If the silhouette is sleek and minimal, complement that vibe with an equally slick center part and hair behind the ears, or consider softening the look with loose waves. It's also about what makes you look your best overall, Garren explains, and that doesn't necessarily require an idea that's overwrought. "Sometimes, something very simple is effective. If you look beautiful with your hair pulled back in a pony and it makes you really glow, why not do a sleek ponytail? If it's more of a relaxed wedding, I would recommend the hair down or in a messy bun that also looks put together–almost like she did it herself, but there's structure."
Given that it is a wedding, after all, it's important to consider elements of polish and refinement, even in no-fuss moments. "I think it looks nice when there's some kind of nod to formality–[maybe] the top is pulled back, or there's a slicked-back center part and the hair is tucked behind the ears, or it's all down and really groomed," adds Garren who styled Hannah Bronfman Fallis' hair during her wedding festivities in Marrakech.
Redway suggests if you're wearing your hair down on your wedding day, you'll want to make sure your strands are prepped to combat the environment. "[Ask your stylist] to prep your hair before styling with the Nexxus Mousse Plus Volumizing Foam and blow dry the product into your hair," she advises. "Adding mousse will allow your style to withstand the elements a lot easier than it would on freshly-washed hair."
Now that more brides are opting to don their natural hair down the aisle, caring for your curls (and maintaining hair health) is even more important. "Brides with curly and textured hair should prep their hair with leave-in conditioners, and products that aid against frizz and humidity," shares Redway. For those looking to style natural curls, some starter ideas from Redway include a half-up look, pinning the sides back, or adding braids and flowers to complement your hair texture. For those looking for a little something extra, chic hair accessories aren't just for straight locks and soft waves, and are a great option to dress up and enhance textured hair.
CHOOSING YOUR HAIRSTYLIST
Do the legwork and select a stylist you feel 100% confident working with. Garren suggests starting with your wedding planner (if you have one) for stylists suggestions.
Redway mirrors these sentiments. "[Definitely] meet your stylist in person before your wedding day and do a hair trial (or two) in advance. Bring inspirational photos and listen to how they speak about the service they provide to see if they feel confident about performing it," she explains. "Also, ask for photos of real clients they have worked on before. Pay attention to the way they handle your hair in the consultation."
Setting expectations are also key. "When I'm doing a wedding, I first find out what the client expects of me," explains Garren. "Then, we have to determine what the hair is for, if it's just for the wedding day, the night before, the day after, a lunch in between, etc. You need to take a lot of things into consideration for a wedding: the overall feeling and theme (ask yourself: Is it a formal event? Or more casual and relaxed?), if it's indoor or outdoor, your gown(s) and neckline(s), if you're wearing a veil or headpiece, and so on." Keep in mind that all these conversations and questions can happen in advance, once you've chosen a gown and a location for your ceremony and reception.
Heed this advice if nothing else: Book a hair trial. "There should never be a situation where it's the morning of the wedding and you have no idea what your hair is going to look like," Garren emphasizes.
Marjan agrees that a hair trial is key and can save any major wedding day hair heartbreak. "I almost always suggest a trial so there aren't any surprises and miscommunications the day-of—unless you really trust the person you are working with. This is your opportunity to express exactly what you want so you can focus on other things the morning of your wedding," she adds.
On the day of, consider booking your hair stylist on hand for all day coverage, especially if you plan to change into a reception gown or after party look that may require a different hair style. If you haven't booked a hairstylist for the entire day, ask to have a few hair products nearby for touch ups, and consult with your stylist on how to use those products during your hair trials. "A little mini can of hairspray, bobby pins, and a smoothing brush like the WetBrush Shine Enhancer can easily fit in a purse for touch-ups," adds Marjan. Toss it in a pouch for your maid of honor, bridesmaid, or sister to have on hand; or, leave a full suite of backup products in your bridal suite.