Anya Hindmarch's Weave Project Sets Fashion Editors A Climbing Challenge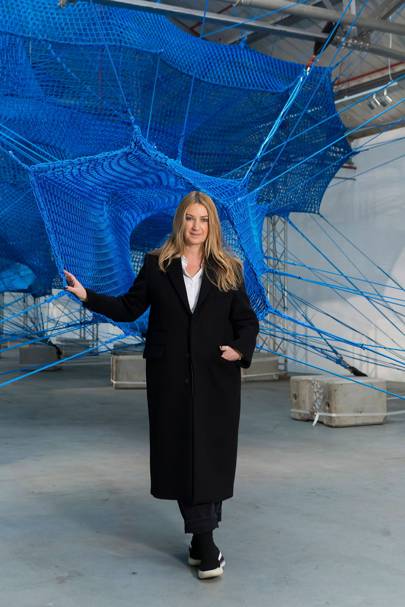 It took a team of weavers three days to construct and seven days to erect the The Tube, the electric blue woven climbing frame that comprises Anya Hindmarch's latest London Fashion Week installation. Following the wild success of last season's Chubby Cloud, the giant squishy beanbag that Hindmarch installed beneath the famous Rubens ceiling at Whitehall's Banqueting House for the benefit of tired fashion editors as well as the general public, the Weave Project was a more energetic proposal: attendees can bomb through the suspended climbing nets, in just "three minutes", claims Hindmarch. She's tested it, of course.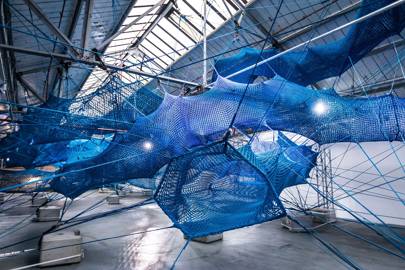 "It's a real feat of engineering," she told Vogue, on a tour of the top floor of London's Brewer Street car park, where the nets were fixed from ceiling to floor to create twisting tunnels. The creation of artists collective Numen/For Use, 3,000 metres of rope were required to construct the suspension, while 11,000 square metres of net were commandeered to create the tunnel structures, which will be repurposed as part of the collective's continued installations in art galleries. The Tube is intended to tie in – quite literally – with the relaunch of Hindmarch's Neeson collection, comprising a hand-woven leather cross-body bag and a large tote (it takes six days to make one bag) that can be customised with initials, tassels and symbols.