HOW TO CREATE EFFORTLESSLY CHIC OUTFITS FOR EVERY OCCASION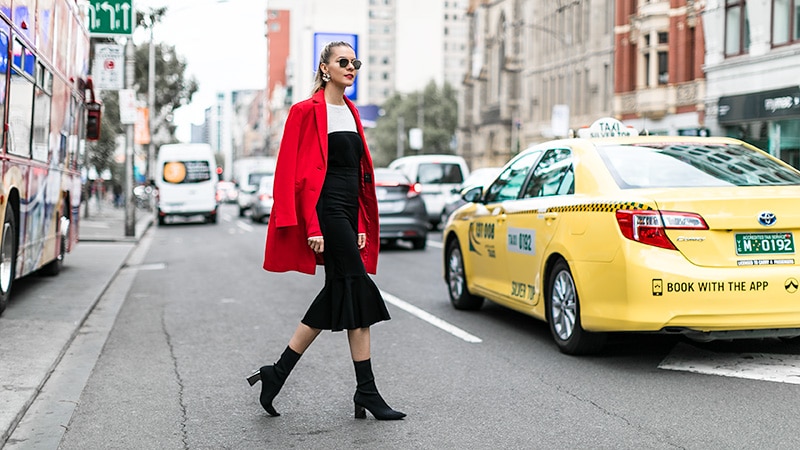 In a world where being so busy that you barely have time to think, taking a moment just for yourself is essential. One moment where you can reflect back on your day and what brought you happiness can bring a smile to your face and completely change your perspective. Believe it or not, your clothes have the power to help you seize this moment. By investing in pieces that are versatile and look amazing for all occasions, you can make your life easier and less rushed. So, when you're in need of reflection and revitalisation, look no further than the garments on your own back to help calm your mind and enrich your days.
This season, versatility is the buzz word in fashion. From bold yet sophisticated colour palettes to smart styles with relaxed silhouettes, this season is all about the mix. To see this notion in action, look no further than the top trends. Red, which has been the hottest colour of the season, looks just as in place in the boardroom as it does on the street. Likewise, oversized blazers, which are a current must-have item, appear just as chic with a pair of trousers as they do with jeans. Of course, striking a perfect balance between being comfortable and appearing elegant is never easy. However, a few brands have come to master this stylish blend and are now making it easier than ever for you to dress for every occasion.
Marks & Spencer is one such brand that is currently nailing multipurpose fashion for women. The label, which began in 1884, has a strong British heritage that encompasses traditionally tailored fits, quality products, style, comfort, and versatility. The brand's latest pieces provide a modern blend to its traditional aesthetic and allow any wearer to put together effortlessly chic outfits with ease. Mark and Spencer's new season collection represents a fresh approach to fashion that aligns with our values. As such, we decided to team up with M&S and explore the power that versatile clothes have to revitalise lives.
With our busy lives, finding pieces that you can quickly throw on and look fantastic is invaluable. Likewise, items that will successfully transition from day to night or casual to smart casual are essential for straightforward and stylish dressing. To nail this effortless style, you need to select quality clothes. High-quality garments, which feature a fashionable yet timeless design, durable construction and premium fabric, will always be simpler to style and wear than those of low quality. As for colours, shapes, and details, it's vital to select elements that are both on-trend and timeless to ensure your look is adaptable to every occasion.
Curating a wardrobe that works for both the office and the weekend is a big challenge for modern women. After all, finding pieces that are business-appropriate yet also comfortable and casual can be seriously tricky. Luckily, today there are more versatile clothing options for ladies than ever before. From chic and relaxed dresses to smart yet simple coats, garments that can take you from work to the weekend are becoming more and more popular. And why wouldn't they? Items that look good for all occasions allow you to save time and stylishly dress with ease.
Having a selection of outfits that can easily be thrown on and look great allows you to save time and feel less rushed. These days, where everyone is running from appointment to appointment and place to place, being able to spare a few minutes is a luxury. So, if your clothes can help you make more time for yourself amongst the business of everyday life, why not embrace it? After all, being a modern woman is hard work, and you deserve a wardrobe that'll meet your needs and enrich your life. In 2017, there's no reason why living an active life should impact your ability to dress fashionably.
Thankfully, Marks and Spencer created its new collection for busy women who are in need of versatile clothing. Boasting a mixture of tradition and modernity, the range is precisely what the style doctor ordered. Comfortable yet chic and ideal for a wide variety of occasions, this collection makes looking and feeling great easy. Just take the label's red 2 Pocket Wool Rich Coat for example. This cosy coat can quickly be thrown on with a Color Block Zip Detail Jumper and Fishtail Pencil Midi Skirt for the office or paired with High Waist Slim Leg Jeans and a Pure Cotton Round Neck Short Sleeve T-Shirt for the weekend. Best of all, you can be sure it's always going to look great, so you're free to focus your mind on more important things.
Versatile clothing is essential for those who want to make more time for themselves and revitalise their lives. Far from just practical garments, pieces that can effortlessly be thrown on and look great for any occasion are modern-day must-haves for ladies. By helping you seize a moment of reflection, these uncomplicated yet revolutionary clothes can bring a smile to your face. Add them to your wardrobe today to embrace your life during busy times.