this season's spectacles are big, bold and ugly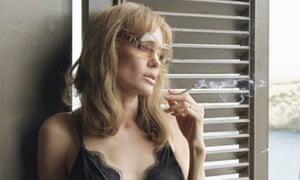 There are people who think spectacles are for seeing: sensible people, or anomalies, if this autumn's spectacle trend is anything to go by. This season, vision is secondary. Rather, it's about being seen, and glasses are bigger, brighter, bolder and uglier than ever before.
Trawling through France on a painfully unfun holiday in her new film, By The Sea, is Angelina Jolie, a case in point, who spends a period of the film wearing a giant pair of Perspex clear glasses the colour of honey, and that do little to disguise her misery. Then there's Cate Blanchett, who has been doing the press circuit for new film, Carol, in a pair of giant semi-aviators the colour of cheap blush.
Like a difficult cropped cut (see model Ruth Bell's bic'd head) and this season's cropped flares (see Alexa for AG Jeans), giant glasses are the humblebrag of eyewear, subverting the notion that fashion is all about beautification. Big glasses should be laugh out loud brash in the vein of Deirdre Barlow or Iris Apfel. Not everyone can juggle MaxMara's comically catty frames with a straight face but if you can, it's a power move.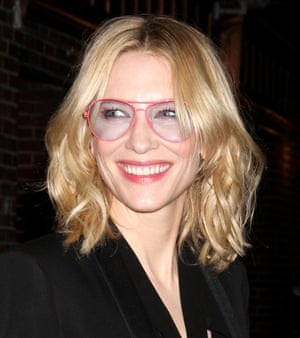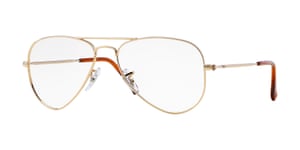 For inspiration on the catwalk, next season Gucci is a lesson in marrying elegance with irony. The weird hair, the clashing prints in unfriendly shades of yellow and green and giant off-kilter glasses, little flourishes of ugliness that made the models look, well, prettier. Put simply, if you're that fit you can get away with them.
They're actually more accessible than you think. So how big and how ugly do you go? There is a spectrum. Beginners could start with gold, thin-rimmed Aviator-shaped Ray Bans. Sure you suit aviators when they're blacked out, but in barely-there gold? From there, upgrade gently with a colour: Laura Imami do elegant cat's eyes with thick red frames. The zenith, perhaps, are Stark's Royal Blue off-square frames with a difficult bridge across the nose.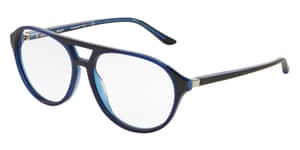 The rules are simple: go wider and bigger and squarer than you're comfortable with. Choose colours that offend and clash. And wear with something elegant and temperate – leather jacket, party dress, fake tan, 18 carats – for maximum effect