Safety crackdown on fancy dress outfits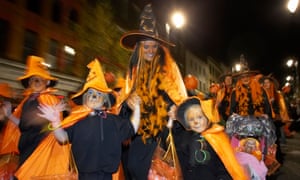 Cheap fancy dress costumes are to be subject to spot checks by trading standards inspectors, to avoid a repeat of the fire that seriously injured the daughter of the television presenter Claudia Winkleman.
Ministers have ordered the nationwide crackdown as thousands more children's outfits and accessories, some of which are aimed at babies and toddlers, go on sale online and in supermarkets in the runup to Halloween.
The costumes, ranging from witches' outfits to skeleton onesies, selling as cheaply as £6 each, will be subjected to flammability tests to assess whether they are compliant with safety standards.
The crackdown follows Winkleman's warning about fancy dress costumes when her daughter suffered serious burns as her outfit, bought from a supermarket, caught fire. Winkleman questioned why the outfits were treated as toys rather than clothing when it came to safety tests.
The business secretary, Sajid Javid, said: "My immediate concern as a father and a minister is that children wearing these fancy dress costumes are safe. It is unacceptable for any costumes to be sold that do not comply with safety standards. That's why I've granted funding to trading standards to carry out spot checks as part of a nationwide investigation. Parents should feel confident that any fancy dress they buy meets required standards."
His department said it was working with the British Standards Institute to assess whether the applicable European safety controls needed to be more tough. Trading standards is to report back to the business secretary with their findings later in the autumn.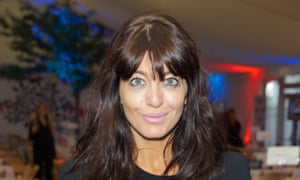 Sales of fancy dress costumes for children have soared in recent years, prompted by cheap imports being available and children increasingly wanting to dress as their favourite characters from blockbuster films. Halloween outfits have become more popular in the UKowing to the influence of American films and sitcoms. Supermarkets report that 31 October accounts for significantly more consumer spending than Bonfire night.
The dangers of the outfits were exposed in November last year when Winkleman's eight-year-old daughter, Matilda, suffered serious burns when her witch costume caught alight. The outfit – a hat, cape, striped tights and flowing skirt – bought at a supermarket, was ignited by a flame.
Winkleman, host of the BBC show Strictly Come Dancing, said on Thursday: "We're extremely happy the government are taking action on this and we're so grateful to the supermarkets who are selling safer costumes."
Some retailers have agreed to go further than minimum standards, after a recent investigation launched by Winkleman with the BBC1 series Watchdog. Tesco, Aldi, Asda, Morrisons, and Sainsbury's, all responded to the investigation by stating that their fancy dress outfits for children would meet the equivalent of the higher fire safety standards required for youngsters' nightwear.
A spokesman for Sainsbury's said: "We have looked at every detail of our children's dress-up range in creating our new standard and believe that it will be industry leading. This has not been a simple task, but the safety of children is our number one priority and introducing more rigorous safety standards for our children's dress-up is the right thing to do.
"All clothing carries some fire risk, but we hope that introducing our own rigorous testing standards that test clothes as clothes rather than as toys will be the first step towards safer testing across the industry."