Net-a-Porter founder quits in surprise move ahead of takeover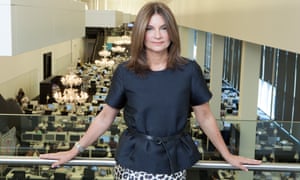 Natalie Massenet, the founder of Net-a-Porter, has quit the online fashion empire she created just weeks before its takeover by an Italian discounter is finalised.
The former Tatler journalist, who launched the company selling designer clothes from her Chelsea flat, leaves with more than £100m cash after selling her stake in the company, according to Bloomberg.
Yoox, an Italian online retailer, agreed to buy Net-a-Porter from its current owners Richemont, the luxury fashion group, in March. The deal, which has just been cleared by European competition regulators, creates a global fashion giant with sales of more than €1.3bn.
Yoox said in a statement: "Following Natalie Massenet's tendering of her resignation as executive chairman of the Net-a-Porter Group, Ms Massenet will not be a member of the board of directors of the new group, which will result from the upcoming merger."
Massenet was due to be the merged company's executive chairman with Federico Marchetti, Yoox's founder, as chief executive.
Fashion insiders said Massenet, who only last month said she was planning to stay on at Net-a-Porter after the merger, was unhappy at the prospect of playing second fiddle to Marchetti. Analysts said her role amounted to being a "group ambassador" with few direct responsibilities.
She said: "As for my own future, my entrepreneurial drive is as strong today asit always has been, and my passion for innovation will continue to be my greatest guide in business."
Now chair of the British Fashion Council, Massenet started her career at US fashion trade journal Women's Wear Daily before moving on to Tatler, where she worked with celebrated fashionista Isabella Blow. She left in 1998 to go freelance before launching Net-a-Porter in 2000 with the backing of her then husband.
Exploiting the emerging internet shopping trend, Net-a-Porter expanded to include French, German and Chinese versions of its site and now delivers its merchandise, wrapped in fine tissue paper, beautifully boxed and tied up in ribbon, in 170 countries.