Jourdan Dunn breaks rank and calls Victoria's Secret 'BS'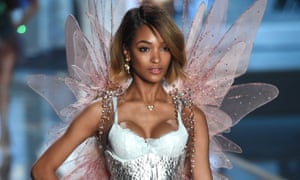 Forget smug sunrise yoga shots and cloying inspirational quotes. Occasionally, models are truth-tellers on social media – or Jourdan Dunn is, at least.
Having previously tweeted about Dior in less-than-glowing terms – the fashion equivalent of a cardinal openly dissing the pope – last night the model dared to break the omerta surrounding the Victoria's Secret fashion show, describing the upcoming celebration of taut abs and frilly knickers as 'BS.'
"Feeling so much better about not doing BS … sorry I mean VS now that Rihannaisn't doing it also," she tweeted, at once revealing that she would not be appearing in next week's pants display and reacting to news that Rihanna's planned performance had been cancelled. The tweet was quickly deleted; clearly it was too beautiful for this world.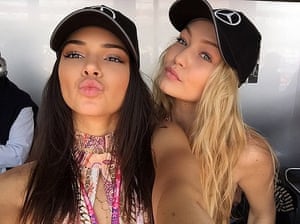 Dunn's declaration stood out like a bra in a wet T-shirt competition because the rest of the fashion industry – and the media – is currently gripped in Victoria's Secret fever. Every year, the show is greeted with a flurry of headlines, but the unfettered exhilaration in the preamble to this year's show has been particularly excessive.
Last week, the internet went into meltdown when reality TV star, social media powerhouse and model Gigi Hadid's successful Victoria's Secret audition was posted online by the brand, a video that combined the "journey" of X Factor with the image of a woman in her underpants. Hadid's delighted response was described by one fashion site as "the most heartwarming thing you'll see all day." Yesterday, the similarly social media friendly Kendall Jenner announced she was on board for the show: "The best birthday present EVER! always been one of my biggest dreams."
The fashion media has embraced hype, with near-constant reports ranging from analysis of the models who have made the cut to detailed reports on how the wings are made. Fashion's acceptance of the show is odd; there are few clothes to be seen on stage and its Las Vegas aesthetic – all rhinestones and angel wings – does not seem to aspire to good taste.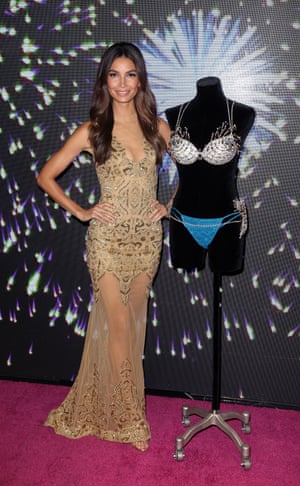 What gives the show its industry kudos is its use of the world's most famous models – Gisele, Miranda Kerr, Rosie Huntington-Whiteley – who in their part love Victoria's Secret because acceptance attests that they have the most fabulous bodies in the business, and they get a shedload of global exposure for their time.
It seems unlikely that Dunn, who first appeared in a Victoria's Secret show in 2012, spoke out for either aesthetic or feminist reasons. As with everything involving Victoria's Secret – whose fashion shows are the most expensive ever staged – it's likely to be about the bottom line: rumours have been swirling that many models have been jumping ship this year because they're not pleased with the pay.
But with the similarly flesh-centric Pirelli Calendar embracing a zeitgeisty feminist theme this year, featuring women from Yoko Ono to Amy Schumer,mainly wearing clothes, these are testing times for companies who trade on pictures of women in their pants.