David Beckham's new tattoo, designed by daughter Harper – stylewatch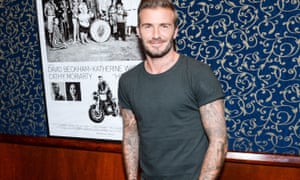 Raf Simons and Alber Elbaz are all very well, but the real power player this week in fashion is Harper Beckham. Harper, four, has revealed her latest play on Instagram, where her father, David, posted a picture of his hand complete with a new tattoo, designed by aforementioned daughter.
And why not? Children's drawings have been a thing in fashion for a while – see Angelina Jolie's wedding veil and Dolce & Gabbana's spring/summer 2015 collection, which had scribbles reworked in sequins on dresses.
Recalling something of Tracey Emin mixed with David Shrigley, it's a chance to show off the precocious artistic promise of Harper, but also emphasises the #familycomesfirst culture of brand Beckham. Moving from tattoo ink to high fashion – and possibly a Turner prize nomination – will surely be ticked off the bucket list before its newest member's fifth birthday.